Sharing of Exchange Experience
Some students from CW Chu College had a wonderful time going on exchange, and wish to share their eye-opening experience with us. They met and made friends with people from other cultures who have different world views, had a taste of life not known to them before, and learnt to be independent away from home—rewards not easy to come by in formal classroom learning.
Come and read their stories, feel their passions and joy through photos taken at exquisite spots, and plan your own rewarding study trips!
| | |
| --- | --- |
| Student: | CHAN Sze Wing (Year 4, Statistics) |
| Host Institution: | Technical University of Denmark, Denmark |
| Exchange Period: | Term 2, 2019–20 |
My participation in the exchange programme at the Technical University of Denmark (DTU) was a fruitful and meaningful experience for me, in which I was able to meet people from all around the world, such as Czechia, Denmark, the USA, Spain, etc. Unlike Hong Kong people, the Danes seem shier and introvert on first impressions, but they are more talkative and willing to share their stories after someone starts a conversation with them. After meeting people from different countries with their own cultures, I understand that it is very important to keep an open mind to different cultures, and learn to embrace and respect them. During my experience in Denmark, I could truly feel that Denmark is a country that welcomes people from all ethnic groups to share their cultures and allows them to keep their uniqueness in the community instead of forcing them to follow the Danish culture. The country respects those people not just with words but with actions.
Sze Wing in front of the main building on the campus of the Technical University of Denmark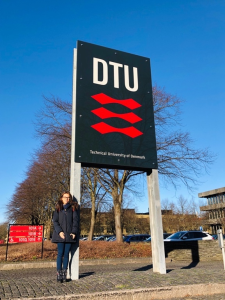 Sze Wing (first row, first from right) with her buddy group at the 'new harbour' during the Copenhagen city hunt in the introduction week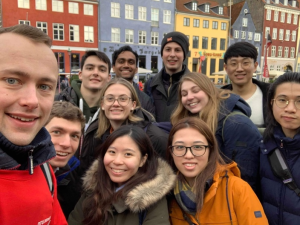 | | |
| --- | --- |
| Student: | CHENG Yat Kit Joshua (Year 4, Japanese Studies) |
| Host Institution: | Hokkaido University, Japan |
| Exchange Period: | 2019–20 |
(Chinese version only)
在北海道大學的第一個學期,除了日文以外,我主要修讀與日本和北海道相關的科目。其中一個有關北海道歷史的科目最令我興奮,因為它的考核方法是我們自選一個有關北海道的事物,然後就其過去到現在的變化作報告。我個人十分喜歡日本的鐵道,所以很自然地以其作為我的題目,這可以算是我最喜歡的考核方法吧。此外,我也選修了一個有關語言的科目,主要是關於我們如何從語言學的角度了解和比較不同的語言。這科目全以日文授課,對我而言有一定的挑戰性,可是這科目讓我有很多機會和日本同學,以至其他國籍的同學交流,可算是我十分喜歡的科目。
Joshua (first from right) and his hostel mates at a Christmas Eve gathering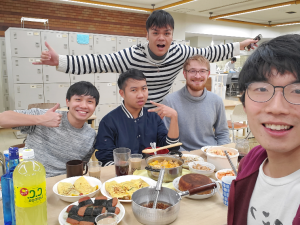 Joshua at Cape Soya, the northernmost part of Hokkaido and Japan, in Wakkanai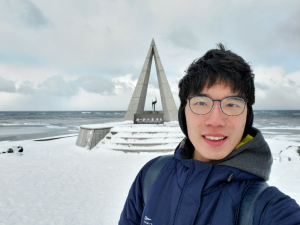 | | |
| --- | --- |
| Student: | HUI Ka Lam (Year 4, Chinese Language and Literature) |
| Host Institution: | University of Aberdeen, United Kingdom |
| Exchange Period: | Term 2, 2019–20 |
(Chinese version only)
蘇格蘭阿伯丁大學的現代藝術一課使我學會欣賞不同時期的歐洲畫作,包括浪漫主義、印象派和維多利亞時期等。以時代背景、筆法線條、當地文化等推敲作品的中心思想,理解作品就更容易。此外,教授帶領我們一眾同學到阿伯丁藝術廊進行導賞,在學習如何賞析藝術品的同時,亦溫故知新。原來,近距離觀賞畫作的筆跡以及顏料的厚度,會發現與網上觀看同一幅作品的感覺截然不同,更為真實生動和富於變化。同時,教授提醒我們一所畫廊的佈置和設計亦對作品的表述有所影響。令我印象深刻的是有一個展廳的主題是「皇室珍藏」,以暗紅為牆身和地板的顏色,每幅油畫配以高雅的金色雕花畫框,燈光恰度明亮,甫進之際,帶給人一份格外的沉穩和堂皇,使參觀者置身於貴氣之中。這門課所涉獵的範疇是我前所未有的,相信以後到訪世界各地的藝術館時,我都會善用在課堂上所學的知識,細心欣賞每一件作品。
Ka Lam at King's College, the oldest building on the campus of the University of Aberdeen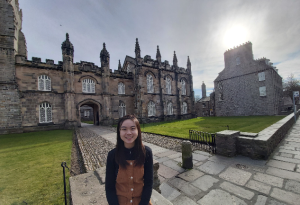 Ka Lam (right) and an exchange student from Finland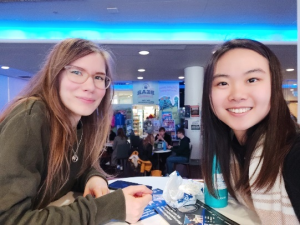 | | |
| --- | --- |
| Student: | LEE Marcus Sherray (Year 4, History) |
| Host Institution: | Erasmus University College, Erasmus University Rotterdam, The Netherlands |
| Exchange Period: | Term 1, 2019–20 |
(Chinese version only)
說起文化體驗,不能不提的是聖尼古拉節。聖尼古拉節是每年的十二月六日,荷蘭人會從前一晚的聖尼古拉之夜開始慶祝這相當於低地國家(荷蘭、比利時、盧森堡)的聖誕節的節日。他們會到街上看聖尼古拉及他的隨從黑彼得的巡遊活動,亦會有大型宴會慶典,更會有派送禮物給小朋友的傳統。在這之前我從不知道原來聖尼古拉就是聖誕老人的原型!除了這歡樂場面令我大開眼界外,在我和一個當地朋友的對談中也了解到,原來這項傳統在近年一直備受爭議。傳說中黑彼得是摩爾人,傳統上扮演他的人總會以塗黑臉面的形象出現,而這外型設定與十八世紀的非洲黑奴買賣歷史很有關係。這活動涉及的種族歧視問題在荷蘭引起很大爭議和迴響,我乍聽之下也感覺到這位朋友不太熱衷於這項傳統活動,大抵是他們比較願意接納來自不同地方的人,而不希望再流傳這種帶有歧視成份的活動。
Marcus at the entrance of the Erasmus University College on the last day of instruction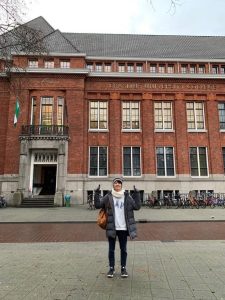 | | |
| --- | --- |
| Student: | MAO Yanqi (Year 4, Risk Management Science) |
| Host Institution: | University of Toronto, Canada |
| Exchange Period: | Term 1, 2019–20 |
The University of Toronto held several weekly meditation sessions, called 'mindful moments'. I had always been interested in meditation but had never experienced it before, as the meditation sessions at CUHK were conducted in Cantonese and required prior registration. At the University of Toronto, students did not need to register for the sessions beforehand, and they could drop in any of the weekly sessions whenever they were free. In these sessions which usually lasted an hour, we were guided to meditate through multiple methods. By focusing on our breath and embracing everything that came to our minds, these sessions brought me calmness and inner peace, making me less anxious or depressed, and therefore enhanced my ability to focus.
Yanqi (second from right) cooked dinner for exchange students from Japan and South Korea.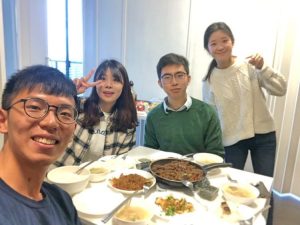 Yanqi travelled to Banff National Park after the semester ended.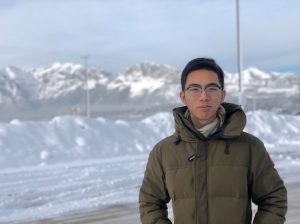 | | |
| --- | --- |
| Student: | NG Wing Hei (Year 4, Biomedical Sciences) |
| Host Institution: | University of Leeds, United Kingdom |
| Exchange Period: | Term 1, 2019–20 |
I studied Psychology at the University of Leeds and it was the first time I had learnt about this subject. I took courses related to psychological disorders and memory, which were completely new to me. I really enjoyed the learning atmosphere in Leeds as the students were very self-disciplined and actively expressed their views in class. Besides Psychology, I took another module about traditional alcoholic beverages, in which I learnt about the history, manufacturing processes and factors to consider in the production of alcoholic beverages such as beer and wine. I also had a precious opportunity to design and brew my own beer in class.
Beer hand-brewed by Wing Hei in the course about alcoholic beverages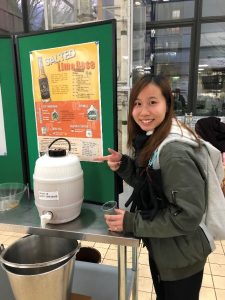 Wing Hei's Christmas dinner with her flatmates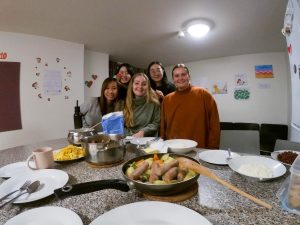 | | |
| --- | --- |
| Student: | SO Yu Chun (Year 3, Quantitative Finance) |
| Host Institution: | Monash University, Australia |
| Exchange Period: | Term 1, 2019–20 |
When my hallmates saw me making dumplings on my own, they were surprised as they had thought that Chinese dumplings were all machine-made, so they suggested that we could have a dumpling party after the exam and I could teach them to make dumplings. We bought different ingredients to make not just one type of dumplings, including pork with bok choy and lettuce with carrot, since one of hallmates was vegan. Apart from the ways to wrap dumplings, I also introduced to them Chinese seasonings, such as white pepper and oyster sauce. We tried different ways to wrap the dumplings and to cook them, for example, steaming, pan-frying and boiling. In return, my hallmates made dishes of their home countries, like the US macaroni and cheese, for me to try.
Yu Chun and his hallmates at Monash Winter Farrer Ball, an annual ball for students from Farrer Hall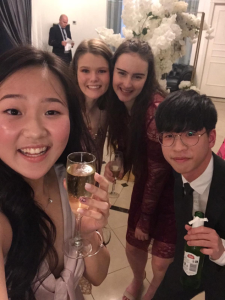 Yu Chun and his friends at Colour Run, a big annual cultural event in Melbourne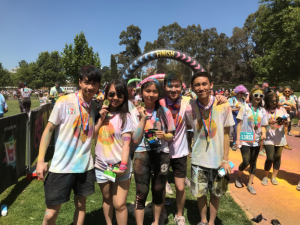 | | |
| --- | --- |
| Student: | WANG Yijia (Year 4, Professional Accountancy) |
| Host Institution: | Emory University, United States |
| Exchange Period: | Term 2, 2019–20 |
The Dooley's Week at Emory University was quite amazing. As a tradition of Emory, the Dooley's Week is an annual celebration of Emory school spirit, taking place for a whole week with festive events befitting each year's theme. 'Dooley' is the name of the university's unofficial skeletal mascot, which appears everywhere during that special week. Normally, it chooses several classes to drop in, and asks professors some tricky questions, which is the most awaited part of that week. If a professor cannot answer its question correctly, he must dismiss the class at once. In this special semester under the pandemic, all classes went online, and so did the Dooley's Week. Instead of dropping in physical classrooms, Dooley entered a randomly picked online lecture, and it was quite funny to see a lovely skeleton on my computer screen.
Yijia (left) and her friends at the World of Coca-Cola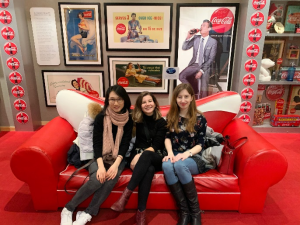 Yijia in Downtown Atlanta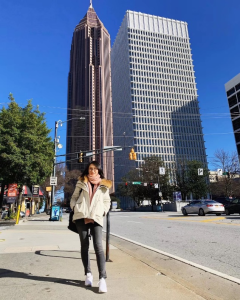 | | |
| --- | --- |
| Student: | YANG Siyuan (Year 4, Translation) |
| Host Institution: | University of Pennsylvania, United States |
| Exchange Period: | Term 1, 2019–20 |
In my leisure time at the University of Pennsylvania (Penn), I joined the Penn Latin Ballroom Dance Club. Learning dance had long been my dream, but I had not had a chance to realise that until I saw this dance club at Penn. Therefore, I joined it and learned Latin and ballroom dance from scratch and attended the ballroom competitions under the encouragement of my teammates. That was the first time I got to involve in dance sports, and I was fascinated with that at once. Joining the competition was like having a wonderful escape from the stressful academic life. We dressed up, made up and danced with people you knew or did not know. But we had one thing in common: we were all lovers of music and dance. I also learned a new language, i.e. the body language of dance. The magic about this language was that even though you did not say a word, your partner knew what you were going to do next second according to the signal sent from your body language. In the music, we could forget about everything, and only move, turn, and spin.
Siyuan (first from left) and her friends at the Toga Party in the Penn Museum during the New Student Orientation of the University of Pennsylvania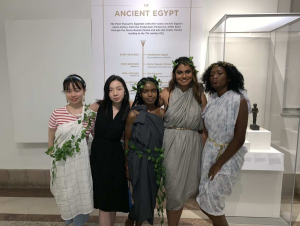 Siyuan and her dance partner at the 2019 Princeton Ballroom Competition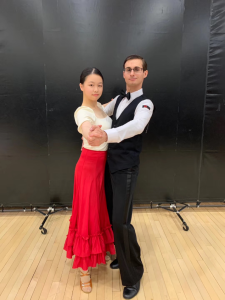 College Office
G/F, CW Chu College
The Chinese University of Hong Kong
Shatin, New Territories, Hong Kong SAR