Dr CW Chu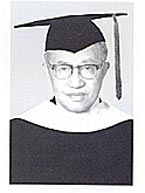 Dr Chu Ching-wen, in whose honour this College at The Chinese University of Hong Kong is named, was born in Jiangsu in 1906. He died in Hong Kong in 1996, and his philanthropic work has since been continued through the CW Chu Foundation.
Amidst the many charitable endeavours he undertook during his lifetime, Dr CW Chu is most cherished for his extensive work in support of higher education for young people, first in Hong Kong and then in mainland China. During the 1960s to the 1980s, Dr Chu provided scholarships that enabled more than 700 young people from Hong Kong to pursue higher education in the United States. From the late 1980s onwards, Dr Chu transferred his aid scheme to the Mainland where, through the CW Chu Foundation, support has been provided to university students, especially in Jiangsu and Anhui. To this day over 30,000 mainland university students have benefited from the munificence of the Foundation.
Quite unlike other philanthropists who also focus their attention on education, Dr CW Chu is remembered and venerated nowadays not only for the substantial funds he provided to support young people, but also for his personal interest and involvement in their studies, their progress and their development, fulfilling a venerated paternal role in loco parentis.
College Office
G/F, CW Chu College
The Chinese University of Hong Kong
Shatin, New Territories, Hong Kong SAR